Reach out
There are several organizations dedicated to supporting first responders and their families with mental health issues. Find out what resources are available to you.
The use of this website does not constitute the provision of medical advice. If you require medical or psychological assistance, kindly seek the assistance of a medical professional, visit the closest hospital emergency department or call 911.
The use of this site indicates acknowledgment and acceptance of the terms of this disclaimer.
If you wish to provide Saskatchewan First Responders Mental Health with additional resources for our website, please fill out the form at the bottom of the page.
Crisis numbers
If you or someone you know is in crisis, these organizations can assist you.
Regina Mobile Crisis Services
The overall purpose of the agency is to provide integrated and comprehensive social and health crisis intervention services. Services are provided on a 24-hour, seven days a week basis, in order to assure accessibility regardless of the time of day.
Saskatoon Crisis Intervention Centre
Saskatoon Crisis Intervention Service (SCIS) intervenes and manages social, emotional and psychological emergencies for people experiencing acute and ongoing crises 24 hours each day, 365 days of the year.
Central Saskatchewan West Central Crisis and Family Support Centre
Mon – Fri: 9 am – 12 pm, 1 pm – 5 pm
After hours:
306.933.6200
North Saskatchewan Piwapan Women's Centre
Prince Albert Mobile Crisis Unit
Mon – Fri: 4 pm – 8 am
Sat – Sun: 24 hours
Southwest Saskatchewan Southwest Crisis Services
Province-wide Professional Health Advice and Mental Health Support
HealthLine 811 is a confidential, 24-hour health and mental health and addiction advice, education and support telephone line available to the people of Saskatchewan. It is staffed by experienced and specially-trained registered nurses, registered psychiatric nurses, and registered social workers.
HealthLine 811 is free. Services are offered in English, with translation available in over 100 languages.
If you are having technical issues with accessing HealthLine 811 by dialing 811, you can call 1.877.800.0002 to be connected with HealthLine 811.
Deaf and hard of hearing residents can access HealthLine 811 by using the SaskTel relay operator service at 1.800.855.1155.
Crisis Services Canada Suicide Prevention and Support
First responder support groups
As a first responder, there are additional support organizations and programs available to you.
OSI-CAN
OSI-CAN is an operational stress injury (OSI)/post-traumatic stress disorder support initiative that supports both career and volunteer first responder and public safety personnel. OSI-CAN has an ever-expanding network of service providers to link members with other services necessary for their recovery, such as housing, counseling, vocational training, psycho-social rehabilitation, advice on prescriptions, horse-assisted therapy and financial assistance for those needing a service dog and a phone-In support group.
Website:
www.osicansk.ca
Additional resources:
OSI-CAN peer support groups and the operational stress injury/PTSD support initiative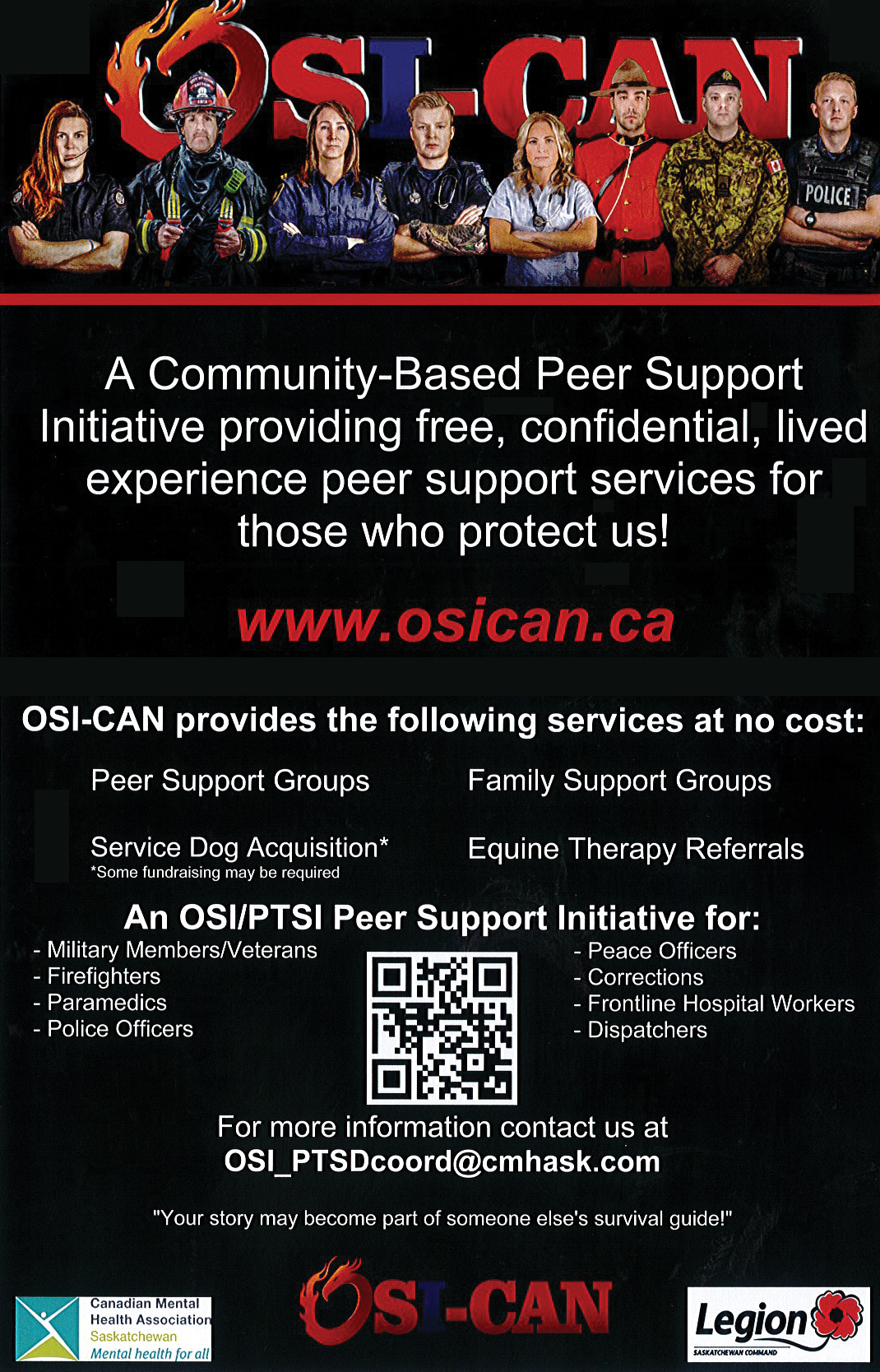 Honour House Society
Honour House Society is a refuge, a home away from home, for Canadian Forces personnel, emergency services personnel and their families to stay, completely free of charge, while they are receiving medical care and treatment in the Metro Vancouver area.
First Responder Support Network
The mission of the First Responder Support Network (FRSN) is to provide educational treatment programs to promote recovery from stress and critical incidents experienced by first responders and their families.
First Responder Support Network - The Significant Other And Spouses (SOS) Program
The SOS residential program is for emergency responder partners and spouses who have been affected by their loved one's critical incidents (resulting in secondary or vicarious trauma), but may also be experiencing symptoms of depression or anxiety and need a program to address their needs.
First responder organizations
Organizations that support mental health
These organizations can support you and your workplace to better support the mental health of the workplace.
Mental Health Commission of Canada
The Mental Health Commission of Canada (MHCC) leads the development and dissemination of innovative programs and tools to support the mental health and wellness of Canadians. Through its unique mandate from the Government of Canada, the MHCC supports federal, provincial, and territorial governments as well as organizations in the implementation of sound public policy.
Canadian Mental Health Association
As a nation-wide, voluntary organization, the Canadian Mental Health Association (CMHA) promotes the mental health of all and supports the resilience and recovery of people experiencing mental illness. The CMHA accomplishes this mission through advocacy, education, research and service.
First Responders First
This website offers resources and services for the first responder community to understand the various steps of a PTSD program, from managing a crisis through to implementing best practices into an existing program.
AUDEAMUS service dog program
AUDEAMUS provides certified, specially-trained service dogs and on-going support to people suffering from mental or physical disabilities. It has developed an evidence-based, holistic and measurable mental health program focused on the therapeutic effects of service dogs on veteran, first responder and war correspondent health.
At present, there are few guidelines, standards and oversights to the service dog field in Canada. AUDEAMUS has positioned itself to lead by example with a comprehensive program informed by an experienced, interdisciplinary and community-based team that draws upon the latest research evidence. It also contributes to research on the effectiveness of highly-trained service dogs.
Service dogs and training are provided free of charge by AUDEAMUS. Participants are set up in safe and comfortable accommodations and provided with prepared meals while training. Participants can meet up to several times in person in a year-long certification process as a service dog team.
Additional resources
North American Firefighter Veteran Network